HD - Wide Flange Columns
Welcome to our HD - Wide Flange Columns free CAD downloads page! Sort the table below according to any property and select a CAD file to download using the reference links in the left-most column.
You can also purchase all our CAD data in one easy download, containing the sections as individual files and AutoCAD Design Center files - just click here to visit our Shop.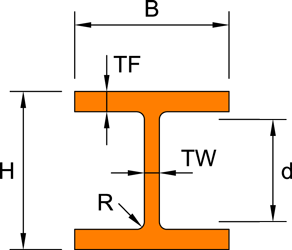 Section Reference
Mass per Metre
Depth of Section
Width of Section
Web Thickness
Flange Thickness
Radius
Depth between Fillets
(Click on link to download)
kg/m
H
mm
B
mm
TW
mm
TF
mm
R
mm
d
mm
HD 260x54,1
54,1
244
260
6,5
9,5
24
177
HD 260x68,2
68,2
250
260
7,5
12,5
24
177
HD 260x93,0
93,0
260
260
10,0
17,5
24
177
HD 260x114
114,0
268
262
12,5
21,5
24
177
HD 260x142
142,0
278
265
15,5
26,5
24
177
HD 260x172
172,0
290
268
18,0
32,5
24
177
HD 260x225
225,0
309
271
24,0
42,0
24
177
HD 260x299
299,0
335
278
31,0
55,0
24
177
HD 320x74,2
74,2
301
300
8,0
11,0
27
225
HD 320x97,6
97,6
310
300
9,0
15,5
27
225
HD 320x127
127,0
320
300
11,5
20,5
27
225
HD 320x158
158,0
330
303
14,5
25,5
27
225
HD 320x198
198,0
343
306
18,0
32,0
27
225
HD 320x245
245,0
359
309
21,0
40,0
27
225
HD 320x300
300,0
375
313
27,0
48,0
27
225
HD 360x134
134,0
356
369
11,2
18,0
15
290
HD 360x147
147,0
360
370
12,3
19,8
15
290
HD 360x162
162,0
364
371
13,3
21,8
15
290
HD 360x179
179,0
368
373
15,0
23,9
15
290
HD 360x196
196,0
372
374
16,4
26,2
15
290
HD 400x187
187,0
368
391
15,0
24,0
15
290
HD 400x216
216,0
375
394
17,3
27,7
15
290
HD 400x237
237,0
380
395
18,9
30,2
15
290
HD 400x262
262,0
387
398
21,1
33,3
15
290
HD 400x287
287,0
393
399
22,6
36,6
15
290
HD 400x314
314,0
399
401
24,9
39,6
15
290
HD 400x347
347,0
407
404
27,2
43,7
15
290
HD 400x382
382,0
416
406
29,8
48,0
15
290
HD 400x421
421,0
425
409
32,8
52,6
15
290
HD 400x463
463,0
435
412
35,8
57,4
15
290
HD 400x509
509,0
446
416
39,1
62,7
15
290
HD 400x551
551,0
455
418
42,0
67,6
15
290
HD 400x592
592,0
465
421
45,0
72,3
15
290
HD 400x634
634,0
474
424
47,6
77,1
15
290
HD 400x677
677,0
483
428
51,2
81,5
15
290
HD 400x744
744,0
498
432
55,6
88,9
15
290
HD 400x818
818,0
514
437
60,5
97,0
15
290
HD 400x900
900,0
531
442
65,9
106,0
15
290
HD 400x990
990,0
550
448
71,9
115,0
15
290
HD 400x1086
1086,0
569
454
78,0
125,0
15
290
HD 400x1202
1202,0
580
471
95,0
130,0
15
290
HD 400x1299
1299,0
600
476
100,0
140,0
15
290