IPE - European I Beams
Welcome to our IPE - European I Beams free CAD downloads page! Sort the table below according to any property and select a CAD file to download using the reference links in the left-most column.
You can also purchase all our CAD data in one easy download, containing the sections as individual files and AutoCAD Design Center files - just click here to visit our Shop.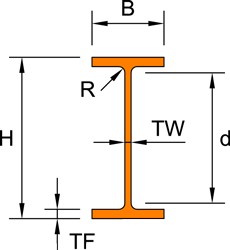 Section Reference
Mass per Metre
Depth of Section
Width of Section
Web Thickness
Flange Thickness
Radius
Depth between Fillets
(Click on link to download)
kg/m
H
mm
B
mm
TW
mm
TF
mm
R
mm
d
mm
IPE AA 80
4,9
78,0
46,0
3,2
4,2
5,0
59,6
IPE A 80
5,0
78,0
46,0
3,3
4,2
5,0
59,6
IPE 80
6,0
80,0
46,0
3,8
5,2
5,0
59,6
IPE AA 100
6,7
97,6
55,0
3,6
4,5
7,0
74,6
IPE A 100
6,9
98,0
55,0
3,6
4,7
7,0
74,6
IPE 100
8,1
100,0
55,0
4,1
5,7
7,0
74,6
IPE AA 120
8,4
117,0
64,0
3,8
4,8
7,0
93,4
IPE A 120
8,7
117,6
64,0
3,8
5,1
7,0
93,4
IPE 120
10,4
120,0
64,0
4,4
6,3
7,0
93,4
IPE AA 140
10,1
136,6
73,0
3,8
5,2
7,0
112,2
IPE A 140
10,5
137,4
73,0
3,8
5,6
7,0
112,2
IPE 140
12,9
140,0
73,0
4,7
6,9
7,0
112,2
IPE AA 160
12,3
156,4
82,0
4,0
5,6
9,0
131,2
IPE A 160
12,7
157,0
82,0
4,0
5,9
9,0
127,2
IPE 160
15,8
160,0
82,0
5,0
7,4
9,0
127,2
IPE AA 180
14,9
176,4
91,0
4,3
6,2
9,0
146,0
IPE A 180
15,4
177,0
91,0
4,3
6,5
9,0
146,0
IPE 180
18,8
180,0
91,0
5,3
8,0
9,0
146,0
IPE O 180
21,3
182,0
92,0
6,0
9,0
9,0
146,0
IPE AA 200
18,0
196,4
100,0
4,5
6,7
12,0
159,0
IPE A 200
18,4
197,0
100,0
4,5
7,0
12,0
159,0
IPE 200
22,4
200,0
100,0
5,6
8,5
12,0
159,0
IPE O 200
25,1
202,0
102,0
6,2
9,5
12,0
159,0
IPE AA 220
21,2
216,4
110,0
4,7
7,4
12,0
177,6
IPE A 220
22,2
217,0
110,0
5,0
7,7
12,0
177,6
IPE 220
26,2
220,0
110,0
5,9
9,2
12,0
177,6
IPE O 220
29,4
222,0
112,0
6,6
10,2
12,0
177,6
IPE AA 240
24,9
236,4
120,0
4,8
8,0
15,0
190,4
IPE A 240
26,2
237,0
120,0
5,2
8,3
15,0
190,4
IPE 240
30,7
240,0
120,0
6,2
9,8
15,0
190,4
IPE O 240
34,3
242,0
122,0
7,0
10,8
15,0
190,4
IPE A 270
30,7
267,0
135,0
5,5
8,7
15,0
219,6
IPE 270
36,1
270,0
135,0
6,6
10,2
15,0
219,6
IPE O 270
42,3
274,0
136,0
7,5
12,2
15,0
219,6
IPE A 300
36,5
297,0
150,0
6,1
9,2
15,0
248,6
IPE 300
42,2
300,0
150,0
7,1
10,7
15,0
248,6
IPE O 300
49,3
304,0
152,0
8,0
12,7
15,0
248,6
IPE A 330
43,0
327,0
160,0
6,5
10,0
18,0
271,0
IPE 330
49,1
330,0
160,0
7,5
11,5
18,0
271,0
IPE O 330
57,0
334,0
162,0
8,5
13,5
18,0
271,0
IPE A 360
50,2
357,6
170,0
6,6
11,5
18,0
298,6
IPE 360
57,1
360,0
170,0
8,0
12,7
18,0
298,6
IPE O 360
66,0
364,0
172,0
9,2
14,7
18,0
298,6
IPE A 400
57,4
397,0
180,0
7,0
12,0
21,0
331,0
IPE 400
66,3
400,0
180,0
8,6
13,5
21,0
331,0
IPE O 400
75,7
404,0
182,0
9,7
15,5
21,0
331,0
IPE V 400
84,0
408,0
182,0
10,6
17,5
21,0
331,0
IPE A 450
67,2
447,0
190,0
7,6
13,1
21,0
378,8
IPE 450
77,6
450,0
190,0
9,4
14,6
21,0
378,8
IPE O 450
92,4
456,0
192,0
11,0
17,6
21,0
378,8
IPE V 450
107,0
460,0
194,0
12,4
19,6
21,0
378,8
IPE A 500
79,4
497,0
200,0
8,4
14,5
21,0
426,0
IPE 500
90,7
500,0
200,0
10,2
16,0
21,0
426,0
IPE O 500
107,0
506,0
202,0
12,0
19,0
21,0
426,0
IPE V 500
129,0
514,0
204,0
14,2
23,0
21,0
426,0
IPE A 550
92,1
547,0
210,0
9,0
15,7
24,0
467,6
IPE 550
106,0
550,0
210,0
11,1
17,2
24,0
467,6
IPE O 550
123,0
556,0
212,0
12,7
20,2
24,0
467,6
IPE V 550
159,0
566,0
216,0
17,1
25,2
24,0
467,6
IPE A 600
108,0
597,0
220,0
9,8
17,5
24,0
514,0
IPE 600
122,0
600,0
220,0
12,0
19,0
24,0
514,0
IPE O 600
154,0
610,0
224,0
15,0
24,0
24,0
514,0
IPE V 600
184,0
618,0
228,0
18,0
28,0
24,0
514,0
IPE 750x134
134,0
750,0
264,0
12,0
15,5
17,0
685,0
IPE 750x147
147,0
753,0
265,0
13,2
17,0
17,0
685,0
IPE 750x173
173,0
762,0
267,0
14,4
21,6
17,0
685,0
IPE 750x196
197,0
770,0
268,0
15,6
25,4
17,0
685,0
IPE 750x220
220,0
779,0
266,0
16,5
30,0
17,0
685,1